COLLEGE /
-T-BUS Special Training Class | Phase II
From December 4 to December 10, the 7-day T-BUS system training Camp (Phase II) was successfully concluded at the SANTAN Lighting College, 9/F, Star Alliance, Guzhen, Zhongshan City.
Combined with the domestic consumption trend in recent years, the voice of "high-quality home life style, people-oriented wisdom and health lighting" is also getting higher and higher; The demand for high-end customization of intelligent control and smart home is gradually increasing in the domestic market.
This training aims to deeply learn the practical operation of T-BUS of SANTAN intelligent system, interpret intelligent control, share the cutting-edge trends of intelligent control market with students, understand the needs of trainees, and implement the implementation scheme of intelligent control with different needs.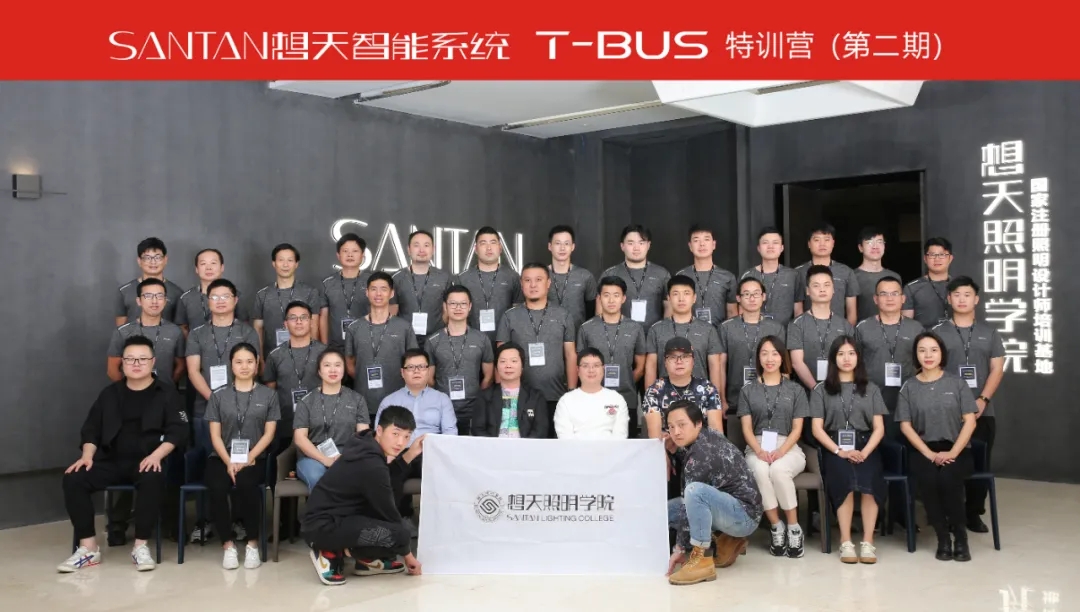 Mr. Zhu Zhongwu , Chairman of SANTAN Lighting, took a group photo with the trainees
SANTAN Lighting College, founded by Mr. Zhu Zhongwu , Chairman of the company, is not only a training base for lighting designers authorized and registered by China Institute of Illumination, but also has cultivated and exported batches of excellent intelligent professional design talents for the intelligent market industry.
In this training, the lecturer of the intelligence specialty first explained the key points of theoretical knowledge, and then integrated into the basic situation of the domestic intelligent market to make a detailed interpretation. A special lecture was given around the T-BUS intelligent system of SANTAN, and the teaching was conducted from multiple dimensions such as function introduction, scheme implementation, recent project sharing, and intelligent operation technology application.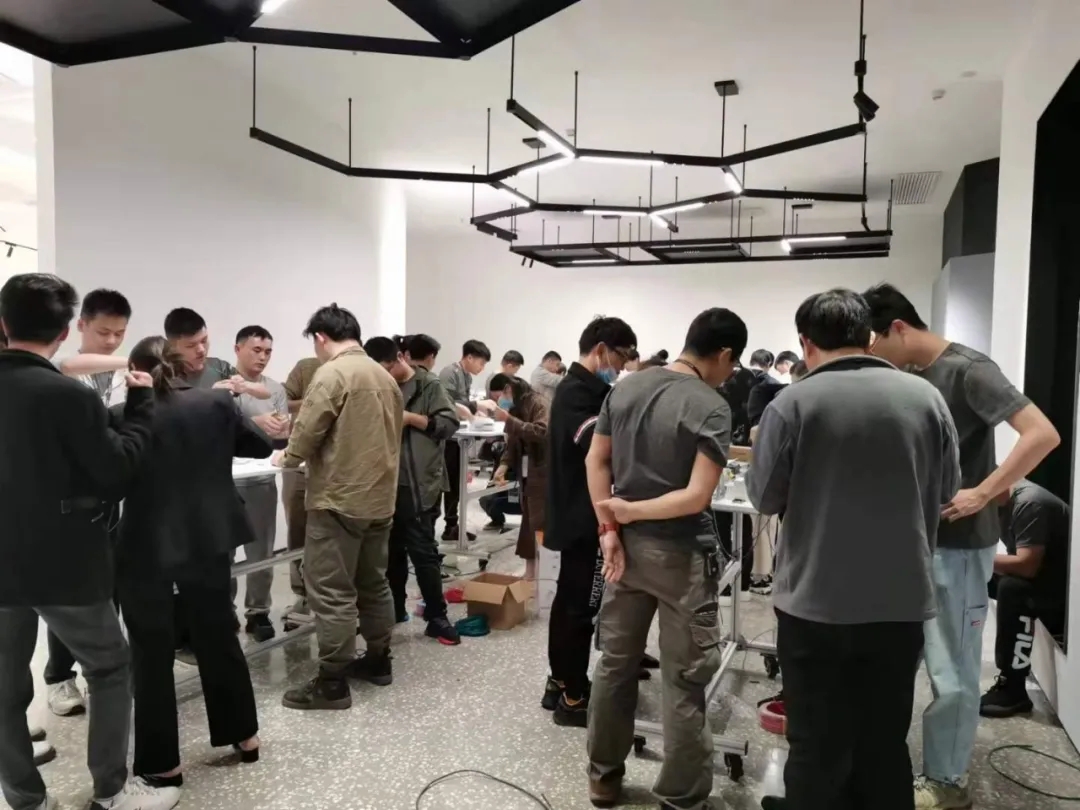 During the training, the trainees actively participated in the on-site practical operation: T-BUS system debugging, mobile phone tablet data production, and debugging practice.
Intelligent professional lecturer showed the operation of the system from the intelligent end, and integrate intelligent market solutions such as high-end villas, large-sized apartment, smart hotels, etc. to carry out systematic explanation and practical demonstration. Let the trainees quickly master the professional skills of intelligent systems.
Deeply learn the intelligent knowledge of the performance of intelligent lighting products and supporting hardware products from practice, comprehensively improve the hard strength of students' intelligent operation, and output more professional and high-quality services for customers!
Mr. Zhu Zhongwu, Chairman of SANTAN Lighting
Mr. Zhu Zhongwu, Chairman of SANTAN Lighting, addressed the graduation ceremony of SANTAN intelligent system T-BUS special training camp (phase II).


At present, the market demand for high-end customized intelligent control is increasing, and the demand for intelligent control design and operation talents is also increasing. SANTAN intelligent will continue to regularly organize online and offline training and promotion activities, and make progress in theory and practice, and apply what we have learned. We will take "extreme service + extreme experience" as the core, and the construction plan of SANTAN Lighting College will continue to establish and train more professional design teams, do in-depth design quality service.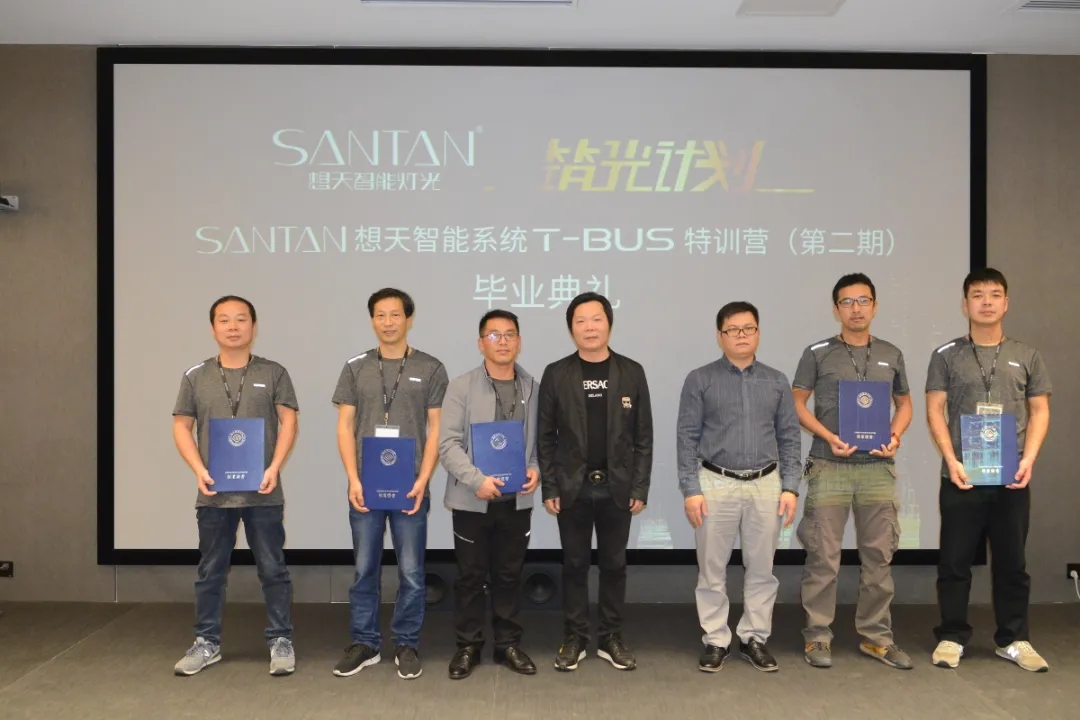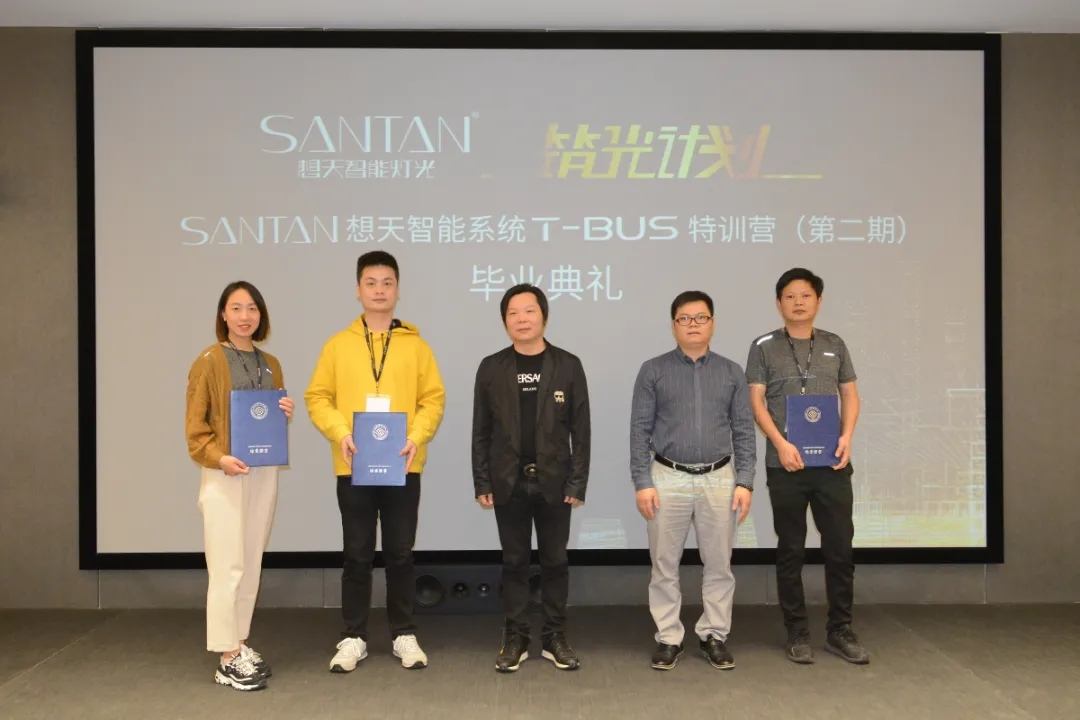 Mr. Zhu Zhongwu, Chairman of SANTAN Lighting, addressed the graduation ceremony of SANTAN intelligent system T-BUS special training camp (phase II).
Through comprehensive assessment, theoretical test and practical test, the students completed various assessments on December 10. Mr. Zhu Zhongwu, Chairman of SANTAN Lighting, and Mr. Ge Taihua, professional training teacher, issued honorary certificates and completion certificates to the trainees.
Based on the development characteristics and demands of smart home / high-end commercial and public space lighting,SANTAN Lighting has developed mature intelligent lighting solutions and formed a comprehensive pattern coverage.
Thanks to the countless hard work of the staff in front of and behind the stage of this training, and thanks to the trust and support of the national SANTAN Lighting, designers who have traveled thousands of miles.We hope that our professional talent team will grow and accumulate more energy for the development of SANTAN intelligence!
SANTAN T-BUS SYSTEM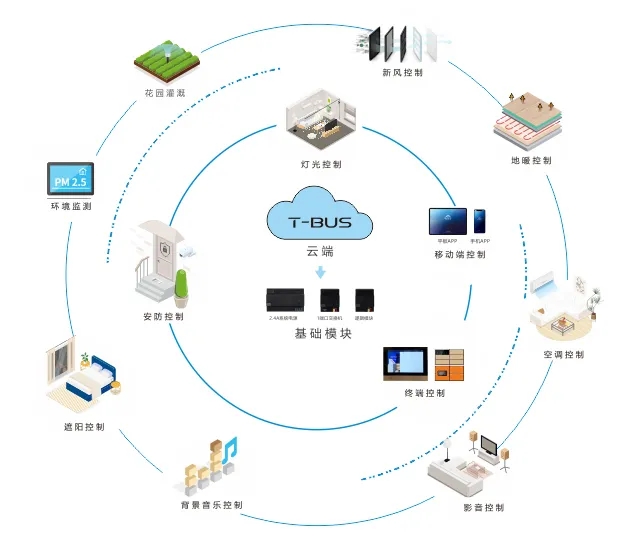 SANTAN T-BUS is an intelligent control system based on the industrial standard RS485 BUS. T-bus is an integrated intelligent control system of lighting, shading, background music, audio-visual equipment, environmental monitoring, air conditioning, floor heating, fresh air, security and garden irrigation.
T-BUS can not only realize the overall control of smart home, but also introduce lighting design elements into the intelligent system. From the perspective of light art, it combines lighting design with intelligence to create a light environment suitable for various occasions, spaces and specific needs.
T-BUS system is developed from the perspective of experience to create a more comfortable.
SANTAN "Chameleon" Smart Panel